Teriyaki Most people are familiar with a teriyaki flavor, but not like Clint & Sons. Give it a try and you are sure to be hooked!
---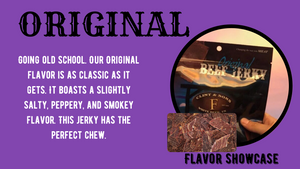 Original This classic is a favorite to many. Our Original flavor is chewy and delicious. It is a slightly salty, peppery, and smokey snack to keep you going.
---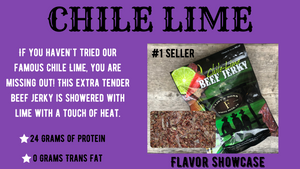 Chile Lime You can't go wrong with our very unique #1 seller. Chile Lime is a one of a kind, flavor masterpiece! This tender jerky is slightly sticky with a bold lime taste, and a hint of heat. This exciting flavor with leave you begging for more!
---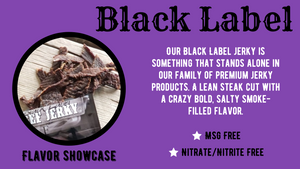 Black Label We are proud to offer you this one of a kind beauty! Our Black Label jerky is the perfect balance of flavor, texture and deliciousness. Black Label is not too wet and not too dry. It boasts a wonderful smokey flavor with just the right amount of salt. You won't regret adding this flavor to you fundraiser and bringing it home to share.